1994 To 1999
Foreword
After the success of the previous years, things took a turn for the worse in 1994. Mike wrote 12 songs but Food didn't like the new material that had been written and it's back to the drawing board. Gen and Al play in some other bands to pass the time away. Alan also gets married.
Live dates are few and far between. In 1994 they supported Japanese star, Tomoyasu Hotei on a tour of Japan. Mike and Iain embark on some Djing dates with the Jesus Jones Sound System and Iain enjoys himself as a radio presenter.
The new album continued to be worked on. Working titles have been, 'Hendrix 303', 'Strawberry' and 'Aluminium'. In 1996 work started on a new production of songs for the fourth album with Martyn Phillips. A small tour of small places took place in April and May of 1996. It was in 1997 that 'The Next Big Thing' finally hit the streets before the album 'Already' was released. Another single 'Chemical No1' came from the album but without any publicity the album was never likely to be a huge seller.
Gen left the band and came back and then left again permanantly. His place would eventually be taken up by Tony Arthy.
So into a new millenium.
Cover Pictures of the Flying Nightmare Game that Mike wrote the music for - 1994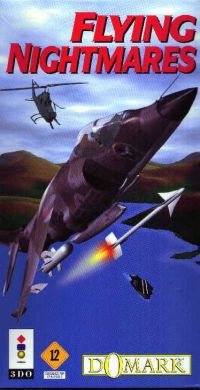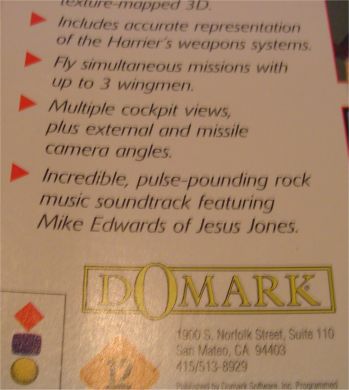 Picture of the cover of the Hotei Vs Jesus Jones Tour Programme - September 1994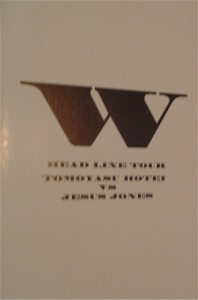 Pictures from Tomoyasu Hotei Vs Jesus Jones Tour (Budokan, Tokyo) - Music Life (Japanese Magazine) - September 1994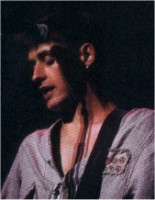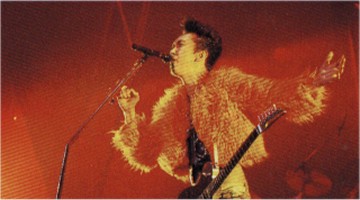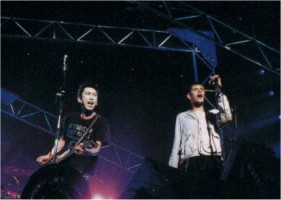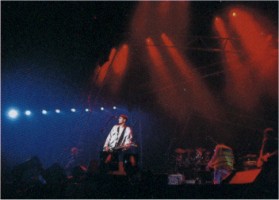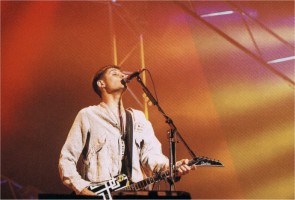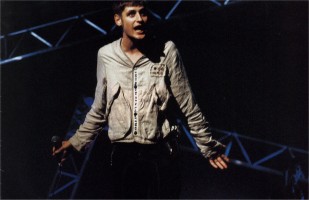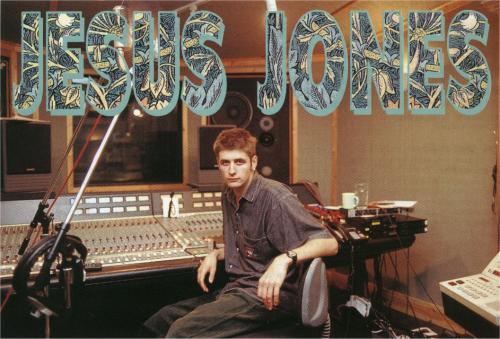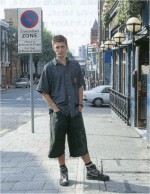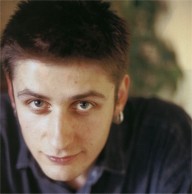 Poster for Jesus Jones Sounds System Gig, Exeter - June 1996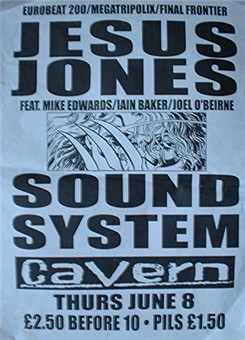 Poster and Setlist for Jesus Jones Gigs, Exeter - 1996 & 1997
| | | | |
| --- | --- | --- | --- |
| | Thanks to Aleutia for this picture | | |
| | Thanks to Aleutia for this picture | Autograph and "artwork" by Iain Baker, thanks to Aleutia for this picture | |
Review of gig at Hull The Room - Source Unknown - 14th May 1997
Jesus Jones. Remember them? They did that one that went, "Reeeel, reeel, ree-ee-eel, do you feeeel reeel, cgurgle, wurgle, schlurgle." Yeah, that's them and, yeah, they're still around. And right at the start of tonight's gig, with a starry-souled, passion-flaringly optimistic 'International Bright Young Thing' (Yes! They open with it! Mad! MAD!) they confirm that still around they most definately are.
And will be for a long time yet, judging by the rest of the set.
With a supremely messianic 'Right Here Right Now' and 'Who? Where? Why?' ripped to the tits on angst and adrenalin, Jesus Jones return with their mix of hedonism and conscience, taking all those hankering hardcore fans back to, ooh, about five or six years ago. Three songs in and only the terminally trendy are left chin-jutting and head-nodding at the back.
Tonight, however, is no self-indulgent, back-to-the-old-days, greatest hits showcase for the leather-trousered, bleached-blond Mike Edwards. There are new songs splattered through the set, songs like 'Addiction, Obsession And Me', songs that are stompier than an entire continent of testosterone-addled rampaging wildebeest and cause even the coolest of the cool to lose it completely.
The new single's called 'The Next Big Thing', but going by the sheer ferocity and guts exhibited tonight, it seems that it doesn't really need to be said. Right here, right now, there's no other place you could imagine even vaguely wanting to be.
Flyer for Already on one side and The Next Big Thing on the other - 1997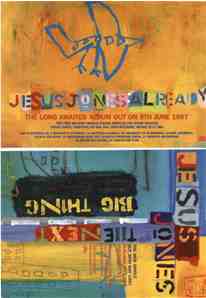 Review of The Next Big Thing - Possibly from Melody Maker - Circa June 1997
One can only surmise that the way Jesus Jones feel about bombastic techno-pop is similar to the way Karel Poborsky feels about that pissed-on mooring rope he calls hair: you know, people keep telling you it's awful, you're wasting your time, no one really likes it, you could do so much better, you're not living in Eastern Europe anymore/it's not the early Nineties anymore (delete where applicable)...on and on and on, until you're so f***ed off that sticking with what you know becomes almost a point of principle. This isn't half as bad as it might well be, for all the serious attention it's likely to get. And it's certainly not as bad as I was expecting. But, when Mike Edwards sings, I just know that somehow, in a way I can't even explain, there's his world and then there's my world, and they will never, ever make peace. Besides. Baseball caps.
Already Promotional Photo of Mike Edwards looking smart - 1997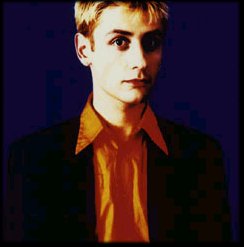 Jesus Jones promo photos (Credit - Aleutia Shannon) click to open bigger versions
Review of Already - Possibly from Select - Circa June 1997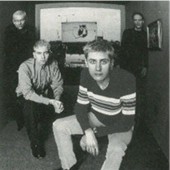 Mike Edwards and company seemed to have the world, and particularly America, at their feet at the turn of the decade when Real Real Real and Right Here Right Now both went Top 5, and stadium after stadium craved their always energetic live performances. But since 1993's third album Perverse things have gone very wrong for the Joneses, with poor sales, record company friction, and band splinters coming thick and fast. Finally they've recorded an album that Food Records have accepted. Tired, tune-free and terribly compressed, Already is not a record likely to please very many others, though. The formula is instantly familiar, but the musical fizz and sparkle of old has evaporated and even the lyrics are devoid of the eager impatience once the group's hallmark. ** David Roberts.
Postcard sent to fans promoting the release of Chemical # 1 - 1997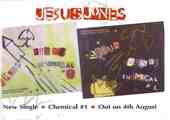 Interview - Alan Doughty - Bass Magazine - September 1997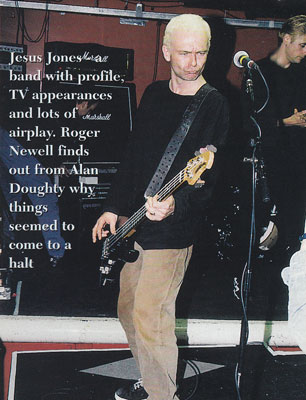 The records stopped appearing and the name fell away from the lips and the playlists. What happened to Jesus Jones? On the eve of a new nationwide tour, heralding the relaunch of one of the most commercial British outfits in recent years, Alan Doughty, Jesus Jones' avuncular 4-stronger, possessed of a no-nonsense attitude and a truly infectious laugh, attempted to explain the reasoning behind the band's recent submarine act.
"We drafted two copies of an album that the record company really didn't like. When Perverse didn't do as well as expected, Mike Edwards (Singer) decided that the '94 album would be what he wanted to write, involving a lot more techno, but again they turned it down, saying there weren't enough singles. So Mike wrote another 16 songs, but that didn't work either; it lacked attitude and just sounded bland. They turned that down, too! By now Mike was pretty disillusioned, but we eventually amalgamated the best songs from each, used a different producer, and we now feel we have an excellent album (as yet unreleased), thank God, but it just took that long to do."
So is Jesus Jones actually Mike's band? The answer isn't deifinite, but there ain't no doubt that the frontman holds the ultimate ace, as Doughty explains.
"I don't feel it is exclusively, but that is the way it tends to work, because he's the main writer and very good at arguing his points. Failing that, he'll just downright refuse to do something, anyway!"
Jesus Jones' techno element is mainly sequencer bass-rooted, so does Alan sometimes feel that interferes significantly with his 'domain'?
(Laughs) "Yes, though not as much as it used to. At first there was so much sequencing going on, it was hard to rise above that. Sometimes I was supporting the sequencing, and that's not a great feeling. At the time it didn't matter so much because we were successful, playing big gigs and it was a kick, but slowly it bothered me more. On this album, there's hardly any sequencing there. There is, however, a lot of strong bass lines that I did in the studio with producer Mike Phillips, because he's a perfectionist, a harsh guy to record with, very tiring. I was a bit pissed off with the production of 'Wishing It Away' on the new album, because they took a lot of the bass out, and I was 12 hours on that, but I guess I was playing too much all the way through and they wanted it very mellow. Now it just comes in right at the end, but it's my favourite song, giving a lot more depth to the album. It's a very rich-sounding song and that's something we still haven't mastered yet," he reflects, with commendable honesty.
"The first band was getting together and the bass was left, so I picked that and, of course, we never formed the band! But it stuck and I love it. I wouldn't feel right playing anything else. Paul McCartney was my inspiration all the way. You can't really beat him. Now Flea, obviously. Originally I listened to Roger Glover and Geezer Butler, then it was Mick Karn. I went totally fretless in the '80s and copied a lot of his stuff. Fantastic! I actually got quite good at it, and it was very weird coming back to my original Ibanez fretless bass for this album, after 10 years or so. The way I used to play was completely different, very flowery kind of stuff; whereas this is direct and straightforward".
I bought a second-hand Music Man Stingray, years back, which I've still got, and that was it, I'd found the bass I loved. Music Man set me up with a deal and I got a five-string and another Stingray as back-up, but somebody stole that, so now I'm using a Sabre - the one they discontinued - and this, apparently, was the last one out of the factory. There's something great about it, it's got a slightly narrower neck, two great pick-ups, but it's still got the bollocks of a Stingray, plus I like the sound a bit better. I put that through a couple of Gallien-Krueger 800-RB heads, and a Trace stack, a 4x10" and a 15" cab."
"Actually Whiff, the new drummer, likes to get more involved and discuss the parts a lot more. Gen would never really talk about what I was playing or how it fitted with the drums. Whiff is a lot more critical and makes me more conscious of time-keeping, and it's helped to tighten us up. He's still learning the parts, although he did fill in on part of the '91 American tour. He's always been with us; he was the drum tech, and to be drummer in this band you also have to know technology and programming. It's not a straightforward drumming gig, it's a pain in the arse."
Interview - Website Headcleaner - October 1997

This interview took place over email with Mike Edwards of Jesus Jones on Tuesday October 14 1997.
Thanks to him and to all others involved for their generosity and time.
What have Jesus Jones been up to of late? Are the band in fact still together?
It's been a weird year for us, lots of hanging about and waiting for things to happen...which never quite did. For most of the world, all of the promotion and touring (what of it there was) for this album has been and gone and so there's just about nothing going on now. However, we still haven't had a release in the US (it's due early next year) and so until we get a crack at was our most successful part of the world, we are most definitely still together.
Do you feel vindicated or do you feel a little bitter now that bands such as The Chemical Brothers, Prodigy etc are being so successful with essentially very similar stuff to what you were coming out with over 5 years ago? Do you feel that Jesus Jones were a little before their time?
I don't feel bitter at all, I think there are major differences between Jesus Jones and those bands. As for the Prodigy, what seems to be ignored is that they were actually hugely successful before the mainstream press woke up to them a couple of years ago - they were a big influence on us hence their '93 remix of Zeroes & Ones and so it's ridiculous to suggest they are following in our footsteps. I don't think we were pioneers, ahead of our time : we were just paying attention back then.
At the height of your success you were lumped in with the baggy scene, together with the rest of the "indie/dance" mob. Did you feel any affinity with the other bands of that era? Was there any animosity shown towards you by bands that saw themselves as being more "serious", for want of a better word?
I hated being thought of as part of that scene and it used to really annoy me when Americans automatically assumed we were from Manchester. I didn't feel any affinity at all with the baggy scene, to me it was just '60s retro stuff with a different beat whereas I felt we were embracing the technology and the sounds of dance music as an integral part of the songwriting. I don't remember any animosity from other bands, at least not face to face (although some twat of an American radio DJ stirred it up a bit by inventing a conversation with me describing the Happy Mondays as so drunk / drugged as to be incompetent - we had a gig with them the same night). The notion of a band being more "serious" is really a press one which unfortunately spreads to the readership. There are always differences of opinion about the quality of other bands' music and success and competition always distort the picture but given that all bands have to go through the same process to get success, it's stupid to think of one band as being more worthy than another.
What would you consider the highlight of your musical career? There are a few because of the different ways of looking at that. The simple ones are things like having a number 1 album (Doubt) or single (Right Here, Right Now) or playing to 72,000 people at Wembley Stadium. There are a few songs of mine that I still really like and am really glad someone else didn't write them ; Info Freako, Right Here, Right Now, Idiot Stare, Zeroes and Ones, Wishing It Away, Top Of The World, February. And for the albums, I'm really proud of the last two, Perverse and Already for being done properly and as I wanted them, not hurried and shoddy like the first two. Perverse I like also because of the strength of the vision, the experimentation and because I was consistently truthful to the aims I had for that. Already, I think of it as being the most consistent album, the one with the best songs.
Do you enjoy playing live or do you prefer the experimentation and gadget-twiddling that the studio affords you?
Both and for the different types of satisfaction you get from them. A dubious analogy is to ask someone if they prefer love or sex as there are similar parallels.
Any ambitions left unfulfilled? Mountain-biking round the world like some indie/techno Michael Palin, perhaps?
Unfortunately for the sake of my happiness I always have greater ambitions than are realisable in one lifetime. Yep, being an indie/techno Michael Palin (Mike on a bike) definitely appeals, as does having more hit records, touring the world again, designing web sites, writing, being a halfway decent dad, winning more mountain bike races and...maybe I'll stop there for now.
What is your favourite song that you recorded. Me, I still have a soft spot for Info Freako (and I still have the skateboard stickers too).
OK so I've really answered this one already but...it's a choice between Wishing It Away from Already and Idiot Stare from Perverse. Or maybe it's...
What do you see the future having in store for Jesus Jones - and for yourself?
Very unsure right now. All I'm thinking about as far as the band's concerned is the US release and tour. What's complicating things is that EMI in the UK have offered me a solo deal but like I said, until we do things in the US, everything else goes on hold.
Do you see the internet taking off as a means of band promotion?
At the moment, it's a pretty under-used medium with a lot of bands having a grainy picture, a few words and not a lot more.
Do you think the future lies in bands releasing material over the net, or do you think it's all hype?
The best promotion Already has had has been on the internet, either through things like this or via our web site. Admittedly, the non-digital promotion for this album has been crap but I'm certain the web is the way forward nonetheless. However, it will still really only work for bands that have reached a level of recognition that means people will have a name to search for, so mainstream press, TV, radio will always be important. However, once a band gets that far (and a small bit of press or airplay will do) then the internet has the ability to outdo all the other media by being able to BE all the other media ; sound, image and print.
Many thanks for your time and patience in answering these questions. Finally, if you had to sum up the spirit and manifesto of Jesus Jones in one sentence, what would that be?
Right here, right now.